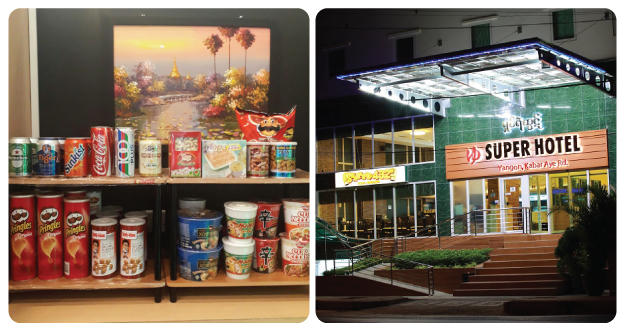 SUPER HOTEL
provides Japan-quality services to all
guests, including long-stay guests for business.
- 24-hour reception service
- Check-in: 2 PM, Check-out: 12 PM
- Room Service (service in Japanese available)
- Business Center with internet access
- Wi-Fi access available throughout the building
- Smoking area (outdoor)
- Free Parking
- We have Mini Food Market at the reception area.
- Airport transportation
- Arrange car rental with driver
- Arrange sightseeing tours
- Arrange Interpreters
- Cell phone charger rental, and more.
SUPER HOTEL provides guests with an easy-to-read map, covering tourist spots in the local area.
Tourist attractions near the hotel are:
Reclining Buddha
(Chauk Htat Kyi Pagoda)

Going off before 6:30am and missing breakfast? Inform us early and we can prepare breakfast in a box for you.​
Terms & conditions apply​